HELLO! and WELCOME!
and
thank-you for checking in...
If you don't know me...
I take the clangs of NYC construction, sporadic beep beep of horns, whirring of some type of unidentified machine that never seems to stop, then mix in some occasional cabbie shouting expletives, the bass thump thump thump from a car passing in the night, the bar or stadium cheers for a Yankees home run and..., and am surrounded by music!
If you do know me...
well, you already know all that!!!
I try to keep the music great, the story interesting, the visuals stimulating, and the movement fresh - and then wind them into a spectacular melange.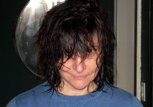 A composition for piano and dancer!
Counting the Seconds
performed by
Isabelle O'Connell - Piano
Livya Howard-Yashar - Dancer
in
Piano Motion
presented by Composers Concordance
Saint Mark's Church
131 East 10 Street
New York City
3 great concerts... Save the dates!
a duet for Violin and 'cello
Morceaux en forme du Tango
(movements 2, 3, 4)
performed by
Zentripetal
Lynne Bechtold - Violin
Jennifer DeVore - Violoncello
in
Zingaresca
Cornelia Street Café
29 Cornelia Street
New York City
Thursday
January 25, 2018
6 pm
Sunday
February 11, 2018
7 pm